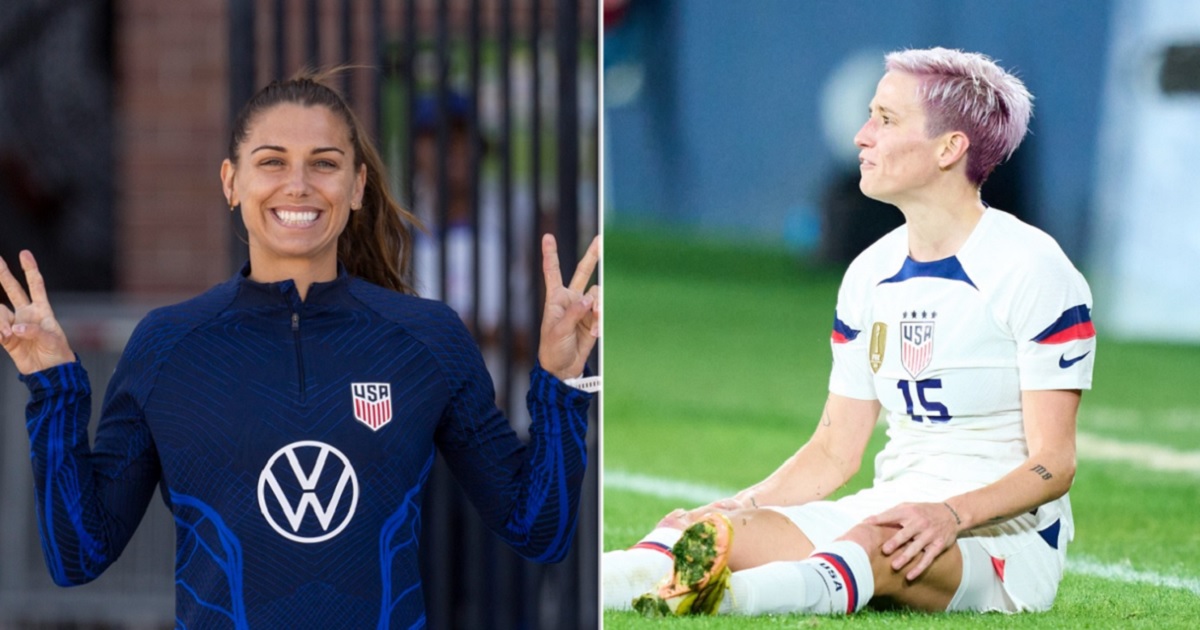 Women's Soccer Player Gunning to Replace Megan Rapinoe as the New Woke Queen?
Megan Rapinoe may still be sporting the kind of pink haircut you mostly find among college freshmen seeking to establish a new identity for themselves, but let's face facts: The U.S. Women's National Soccer Team star is getting old.
When the 2023 Women's World Cup begins in July, she'll be 38 — a little past the sell-by date for most athletes not named Tom Brady. This raises the all-important question: Who will step up and shoulder the burden of of taking on conspicuously woke causes on the national women's team we try to pretend to care about every four years?
Rest easy, because Alex Morgan is coming to the rescue. Morgan isn't a whole lot younger than Rapinoe — she'll be 34 when the World Cup begins — but she's got the feisty woke spirit down pat.
Not only has Morgan come out to endorse a commentary piece written by a teammate urging states not to pass laws prohibiting boys and men from competing against girls and women under the guise of being "transgender," she's called for the national team to boycott upcoming tournament games played in states that have passed such laws.
The whole kerfuffle started after USWNT member Becky Sauerbrunn wrote an opinion piece for the Springfield (Missouri) News-Leader in which Sauerbrunn assured readers "that playing with or against transgender women and girls is not a threat to women's sports."
Trending:
MSNBC Guest Tells Fascinated Host How to 'Deprogram' Fox News Viewers as Network Continues to Dominate
The piece came as Missouri legislators debated a bill that would ban men from competing in women's sports.
"I have been championing gender equity in sport for a long time, and I am done seeing transgender youth being cruelly targeted to score political points. Transgender people are exactly that, people — not tools to be wielded in a climb up the political ladder," she wrote in the piece, published Feb. 5.
"I'm not alone ― hundreds of other elite women athletes from Billie Jean King to Candace Parker have consistently expressed loud opposition to bills almost identical to the ones being heard in the Missouri Senate. Thousands of college athletes have signed letters supporting transgender athletes and against discriminatory bills like these."
And, I'm guessing, about zero of these people heard how Lia Thomas turned from a mediocre men's swimmer to an NCAA-champion women's swimmer — or, if they did, they closed their eyes, stuffed their fingers in their ears and began loudly chanting, "LA LA LA LA I CAN'T HEAR YOU LA LA LA LA."
Are you sick of the wokeness in sports?
However, simply supporting a commentary in a Missouri newspaper isn't Rapinoe-level wokeness. Alex Morgan turned up the heat by suggesting that matches in an upcoming tournament be moved because of states that have laws like the one being debated in Missouri.
According to a Wednesday report from sports outlet OutKick, "the USWNT is preparing to compete in the She Believes Cup against Canada, Japan, and Brazil. The tournament will be held in Texas and Florida, two states against trans athletes competing against girls. Morgan now believes that the USWNT should have a discussion about boycotting playing in those states."
Taylor Vincent of Equalizer Soccer, a website that covers women's soccer, tweeted a statement from Morgan last week questioning whether the game should be held in Florida and Texas.
"The fact that it's being taken into politics is really sad," she said. "And I think it's at the cost of trans kids' life. [sic] So, it's really sad and I feel like what Becky said was great.
"And as for this team, we've always been very vocal with where we stand, and I think we'll continue to do that," she continued. "But looking at these games in Florida and Texas respectively, we're gonna need to continue to step it up and have internal discussions as well as with the team because we're not ones to shy away from hard conversation or taking a stand for what's right."
#USWNT Alex Morgan – with Becky Sauerbrunn's op-ed on trans rights, the team wearing wristbands last year that said Protect Trans Rights, how much is it on the team's mind having the team be playing matches in Florida and Texas this year
q:@itsmeglinehan pic.twitter.com/METFY8SAH8

— Taylor Vincent (@tayvincent6) February 8, 2023
Those readers who specifically follow my commentaries (all three of you) know that I'm a sports fanatic with a penchant for, ahem, keeping an eye on the odds. I'm no degenerate gambler, but I've been known to place very small bets here or there for fun — all legal, of course. In other words, I'd like to think I know more about obscure sporting events than the average bear.
That said, I had no idea 1) the She Believes Cup was being played in Florida and Texas or 2) the She Believes Cup was a thing that actually existed. To be honest, it sounds more like the name of a bad emo band than a soccer tournament.
I can tell you one game I'm more aware of than any of the matches that will be played at the She Believes Cup, however. It happened in 2017, when the under-15 boys developmental squad for Major League Soccer club FC Dallas played the USWNT in a scrimmage.
According to CBS Sports, the boys won 5-2.
Now, granted, none of these under-15 boys were "transitioning" to female — but the facts remain that 1) even young boys on the developmental squad for just one MLS team can beat arguably the best women's national soccer team in the world, and 2) scientists and biologists have finally come around to admitting that, yes, even after hormone treatments and other therapies, individuals with XY chromosomes (which is to say, men) maintain physical advantages over those with XX chromosomes (that being women_.
But, hey: If Alex Morgan isn't going to signal her wokeness by dying her hair pink like Megan Rapinoe, she can at least make a few headlines by proving the brain under her non-dyed hair is as hard-wired to woke causes.
And she's giving Rapinoe a run for her money.