'Ant-Man and the Wasp: Quantumania' Post-Credits Scenes Explained
WARNING: MASSIVE Spoilers ahead for "Ant-Man and the Wasp: Quantumania"
There's a new Thanos in town, and he's not out to dust people — he's out to conquer them. Jonathan Majors makes his first official appearance as Kang the Conqueror in the Ant-Man threequel, out Friday, and thanks to the movie's post-credit scenes, we meet even more versions of him.
Yes, once again, Kang the Conqueror is not the only Kang we need to worry about. You might remember that Majors first appeared not technically as Kang, but as He Who Remains in Season 1 of "Loki." He Who Remains explains that he's spent most of his existence keeping his variants at bay, and doing so meant controlling every timeline in existence.
Unfortunately, Sylvie (Sophia Di Martino) doesn't appreciate that He Who Remains chose to play god, no matter the reason, and kills him — thus, opening the door to all his variants. And sure enough, both post-credits scenes in "Quantumania" bring us more versions of Kang.
Let's break it down.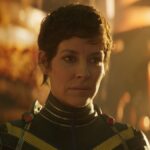 Mid-Credits Scene Explained
As has become the norm for Marvel movies, "Ant-Man and the Wasp: Quantumania" had a mid-credits and a post-credits scene. In the mid-credits scene, we only actually meet a few more Kangs, but we see a LOT of them — a whole stadium full, in fact.
Why? Well, once again, the Kang we spend most of our time with on this project doesn't make it to the end. In Kang's final showdown with Scott Lang (Paul Rudd) and Hope (Evangeline Lilly), the two manage to keep him from escaping the Quantum Realm to conquer more worlds.
What exactly happens to this Kang is unclear. After Scott overloads the core of Kang's quantum ship with a combination of growth and shrinking discs, the conqueror himself gets sucked into the ensuing reaction. He disappears entirely but, as the MCU has taught us many times over at this point, if you don't see a body, there's a chance they're not dead. (Unless it's Loki, in which case, even if you see a body, he may not be dead).
But, in the mid-credits scene, we find three variants of Kang meeting, with one confirming that "the conqueror" is dead. He very specifically notes something like "I wouldn't be here if he wasn't."
As the conversation continues, we learn that one of the other variants — let's call him Pharoah Kang — has summoned the rest of their various selves. The camera then pans, and we see a literal stadium full of Kangs, all yelling and clearly ready for action.
It seems to indicate that, going through Phase 5, our heroes will be meeting a whole bunch of Kangs, each one different. Who's up next? We'll just have to wait and find out. But we do meet one other specific variant.
Post-Credits Scene Explained
The actual post-credits scene of "Ant-Man and the Wasp: Quantumania" not only introduces a new Kang, but directly sets up "Loki" season 2.
After the credits finish rolling, the screen comes back to Jonathan Majors on a stage. He's wearing a suit and a bowler hat, and it immediately becomes clear that we are in a different time period, decidedly in the past. On stage, this version of Kang is explaining that time may not be what people think it is, and teasing a revolutionary discovery regarding it for the people.
We then enter the audience to find Loki (Tom Hiddleston) and Mobius (Owen Wilson) watching the presentation, both in period-appropriate clothing. But Loki is stricken with fear, confirming to Mobius "That's him" and beginning to panic.
Mobius, naturally, is skeptical and admits that this Kang fellow doesn't look like some dangerous, all-powerful being. But, Loki assures him, he is.
And sadly, that's all we get.
But, it's a clear indication that Majors will be a key player in "Loki" Season 2. Granted, we pretty well knew that already, when, in the Season 1 finale, Loki returns to the Time Variance Authority (TVA) only to discover no one knows who he is, and Kang has clearly assumed rule of the land.
It's unclear how exactly they'll first meet…for now. "Loki" season 2 is set to premiere this summer on Disney+. An exact release date has yet to be announced.